No matter the size or scope of their operations, hospitals and medical facilities are driven to reduce costs and create savings wherever possible, this is especially true for hospitals in transition.
Often, cost pressures drive difficult decisions to sell or close facilities within a regional network. For hospital administration, merger or acquisition of an outside facility can produce opportunities for even greater savings in transition – so long as those opportunities are realized.  
Since savings usually serve as the reason for closure or sale of a facility, it's important not to retain or create new expenses in transition that could negate the potential savings generated by the sale. Often, the medical and business records of closed facilities represent hidden risk and cost for the selling party that can do just that.  
Common Mistakes 
One common mistake is assuming that patient medical data and business records will be seamlessly absorbed by existing health information management resources in other parts of the organization. Planning to close a facility and assuming existing staff in retained facilities can "pick up the slack" and maintain the legacy records from the closed facility is a recipe for hidden cost inefficiencies.  
Even worse, former patients of the closed facility may choose to seek continuing care with a facility outside of the selling party's network. This means the original facility is paying staff to maintain records that serve their competition.       
In other words, during any transition, health information managers must consider the total costs of onboarding and maintaining legacy records as part of the transition. These costs include space, software licensing fees, staff costs, and the inherent risk associated with keeping sensitive data, with the added factor that many of these expenses don't produce any real revenue of your organization.  
These factors create excess management costs and inefficiencies within records management processes at existing facilities. Medical records custodianship services with a professional, experienced, medical records custodian can serve as a solution to these problems by allowing facilities to eliminate costs and risk associated with legacy records while retaining access to the records themselves.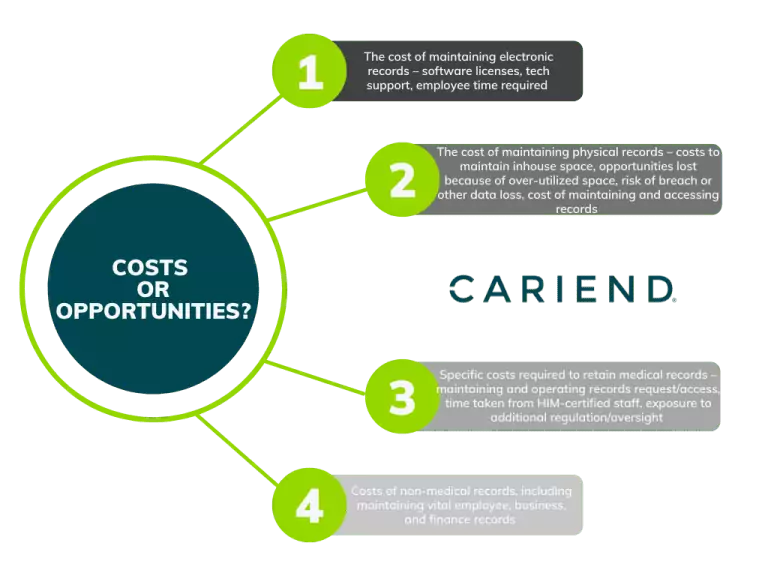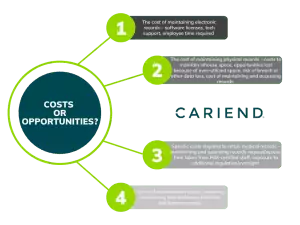 As an alternative, organizations can engage an experienced, qualified medical records custodian like Cariend. This enables the hospital or organization to write off the entire life cycle of costs of the transaction, helping improve margins moving forward, minimize expenses and eliminate risk.   
Cariend will assess records management processes during your facility's transition, suggesting opportunities and sharing examples to help translate our decades of experience in health information management into workable solutions that drive savings within your network. By helping streamline operations and avoiding inefficient processes, Cariend can help your network or organization consolidate its operational footprint.  
If your hospital or health organization is going through a transitionary period – no matter the reason or kind – chances are, you can find new opportunities for increased savings during this period. The simplest and most effective way to capitalize on such opportunities is to let Cariend help you navigate your transition. If your hospital is going through closure, acquisition or any other major transition, or you're simply interested in finding savings in existing operations, contact Cariend today to learn more.